| | |
| --- | --- |
| Your Valmont Bike Park Donations At Work | |
Valmont Clean-Up Day, May 9th

We are getting closer to construction for the Valmont Bike Park,
and we need your help!

When
:
Saturday May 9th, 2-6pm
Why
:
Site prep
Time to begin site prep for the Valmont Bike Park! We hope to begin construction over the summer, but first work needs to be done this spring. We will
meet at the site at 2pm, Saturday May 9th
, to get the ball rolling on construction. The site has been neglected for years - there are downed fences, windblown debris, and invasive weeds that need to be removed. We are partnering with
BMA
for this Valmont Bike Park work day, but we also need your help. BMA work days are rewarding and a good chance to meet other like minded members of the community, so pitch in, it is cool to help out.
We scheduled the clean up so you could ride in the morning, and help out in the afternoon. After breaking into groups of ten, we will learn about the park while prepping the site for construction. This is your first opportunity to see the plans on site, ask questions and help out. We will provide the materials, just bring work gloves.
We have to limit the number of volunteers to 60, and there has been a tremendous outpouring of offers to help.
Please click here to register
; register early because once we reach 60 volunteers, we will respond that the event is full.
The Valmont Bike Park will be a model civic bike project for years to come. Come out, watch it unfold, be a part of it.
Annual Sports Garage Demo Days Benefits VBP

Saturday, May 16th
Sports Garage has recently joined over 500 Valmont Bike Park supporters as a $500 - Big Ring Society Donor. In addition,

Sports Garage will donate all of the proceeds from their annual Bike Demo to the Valmont Bike Park

. The Demo includes six bike brands, subs, brews and even a kids fun race at 11:30 am. Be sure to join them on

Saturday, May 16th

on Hwy 36 or drop by on your way back from your road ride. For more info and directions check out the Sports Garage website.
| | |
| --- | --- |
| Valmont Bike Park Development | |
VBP Status

Onward to greatness!


Forward progress continues for the Valmont Bike Park! We're on track for construction later this year, and no major roadblocks have surfaced. All the players have been cranking, and excitement is growing every month.

Currently, updated plans for the park are being reviewed in the City of Boulder's Land Use Review process, where items like landscaping, traffic, parking, buildings, utilities, access, natural resources, and multi-use path connections are examined. The next step will be a public hearing by the Planning Board, potentially scheduled for June 4. Hopefully, the Board will approve the plan and give the project a green light.

The design team will then produce a complete set of detailed blueprints and specific construction plans, get final approval from the Planning Department, and then issue an invitation for construction bids. Construction will start once a construction team can be assembled and contracted, and all the above steps are complete. Let's keep the energy high and the support flowing!

-Pete Webber

Spy Photos

get ready for what's to come at VBP!



Here's a sneak peak of some backyard prototypes being developed and tested for Valmont by the crew at Alpine Bike Parks (the company designing the gravity terrain for Valmont).

Check out this killer wall ride and prototype ladder bridge. Bomb-proof construction and grippy detail.
Valmont Fundraising Passes $151K!

Full Cycle Movie Night

A raging success!



Thanks to everyone who came out for the VBP movie event on St. Patrick's Day. Our friends at Full Cycle put together a great evening of movie entertainment headlined by New World Disorder 9: Never Enough. With sick bike movies, drawings and giveaways, the crowd was pumped to support VBP and get ready for riding season.



Full Cycle donated all profits to Valmont Bike Park, to the tune of $3200

! Please be sure to thank Full Cycle and all their staff for the additional support for Valmont Bike Park.


Earlier that same evening, local riders met up at The Fix Bike Shop for a pre-movie jump jam and pumptrack session. Big air, good friends, and a pumptrack time trial drew riders young and old. Everyone was buzzing about Valmont and looking forward to the gravity terrain planned for the bike park.

From the Valmont Bike Park Committee


Please forward this message to your friends and encourage them to join you in supporting Valmont Bike Park with a donation!


Be sure to check out the
donor list
to see who's donated so far.
Report from the Sea Otter
We were out promoting the Valmont Bike Park at one of the largest races of the year, the Sea Otter Classic in California. We were able to visit with the Bike Industry, racers and visitors alike during this four-day event, which is considered the world's largest cycling festival. Thanks to IMBA and their California clubs, we were able to use their tent in the vendor village as home base to distribute VBP materials, stickers and also illustrate the latest trail map design (photo). This visual map of the park was a real draw for visitors at the IMBA tent. After talking with people about the park and sponsorship opportunities, it was surprising that almost 100% already knew and were excited about our planned Bike Park, clearly we have a huge following outside Boulder too! We are currently following up with these and many other sponsorship contacts to help support the park.

We are constantly looking for ways to engage new sponsorship prospects at the park. If you have a bike industry contact or know of a local business that may be interested in supporting the park, please contact Mike Eubank at mikeeeubank@comcast.net for details.
Lyons Bike Park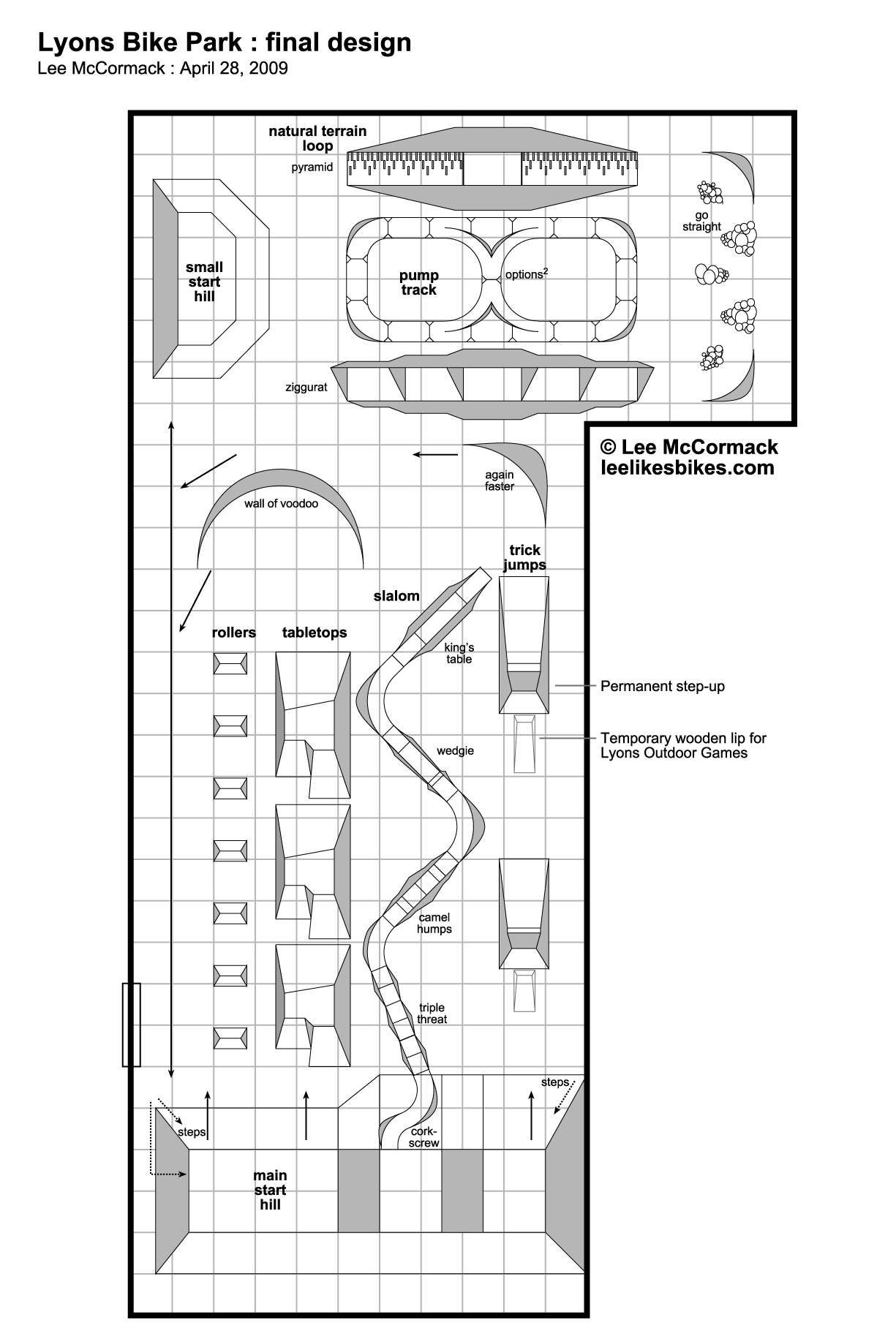 Our efforts to build a world-class bike park in Boulder have encouraged similar parks in other cities, including our neighbors to the north!

The

Lyons Bike Park

design is approved and ready to build. The park, located very close to the Lyons end of the Picture Rock Trail, will feature a pump track, natural terrain loop, BMX rollers, tabletops, jumps, and more. Lyons Bike Park is being built through the Lyons Department of Parks, Recreation & Cultural Events as an official city park. The budget is tiny, but the fun factor promises to be huge.

The team will need volunteers for final shaping, including a handful of experienced rider/builders to lead work groups. Construction is set to begin in the next couple weeks, and the park should be rocking for the Lyons Outdoor Games, June 12-14. For more information, check out this webpage.
June is "Walk and Bike Month"
Walk & Bike Month 2009 is celebrated throughout June, with

Bike to Work Day

held on

Wednesday, June 24

. It is presented by GO Boulder and coordinated by Community Cycles. First celebrated as Bike to Work Day in 1977, the event has grown and continues to encourage thousands of commuters to explore their transportation options.

For more information, check out the GO Boulder website and the Community Cycles list of W&BM events.